Fire
Our stable and arena complex went through the Black Saturday fires on Feburary 7, 2009. At that stage we had down a sand arena inside the indoor and we decided the safest place for the horses was loose in the sand arena, there was literally nothing to burn on the arena.
We were terribly lucky in that we had only one mild case of smoke inhalation.
Immediately following a fire it is
vital
that you inspect for
residual fires
- and keep doing it for some
days
. We caught a slowly smouldering fire that had started in the shavings in one of the stables only because we were doing an inspection the next morning.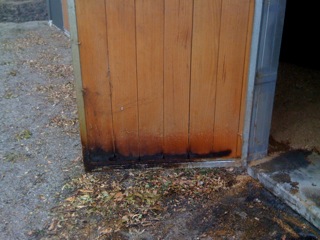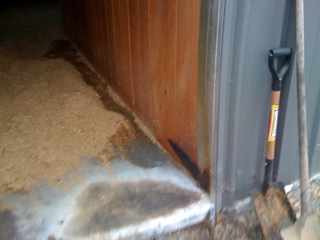 Post the fires we learned the following:
Even though the building was fairly clear of the fire we baked off the Colorbond on the roof, the fibreglass sheeting used to let light in burnt through eventually, and the reflector of one of the lights caught fire.

Fixing the roof required literally removing it and reinstalling all the insulation, some buckled structural members and all the Colorbond and fibreglass. No matter how careful the workers replacing roofing are you will have screws and other metal dropping into your arena. Put down tarps to catch the metal, and tell the workers to throw the structural members outside the arena, otherwise you will be fixing your base. We ended up sieving every grain of sand, and this would have been impossible if it had fibre through it.

Holes in the roof must be patched urgently as burnt leaves soot and other detritus will quickly contaminate your arena and cleaning burnt matter out of a surface is very hard

Isolate your tanks from the roof at the beginning of the fire. Do

not

reconnect

them until any roof repairs are done and you have had heavy rain. Any iron or Colorbond contamination can spoil your water and require your tanks to be cleaned.