Vale Diamond B Bollinger
24/01/14 08:47 Filed in:
Horses
This morning we put down a Bollinger after a sudden reoccurrence of the colic attack we had hoped he had overcome yesterday. For me Bollinger will remain that special horse who taught me and rescued me from my mistakes. Rest in peace my friend.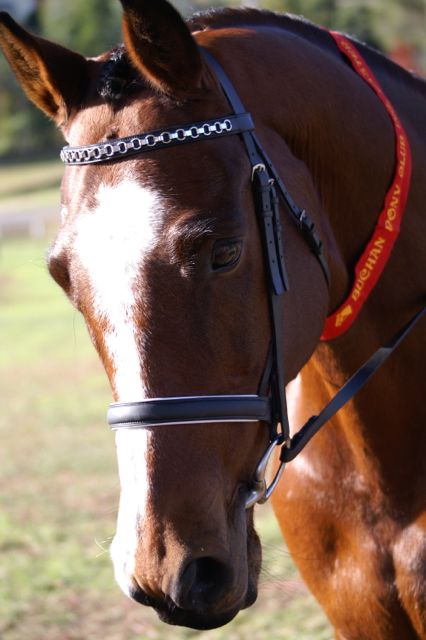 Born on 15 December 1987 (Sire: Valuta, Dam: Champagne Mcohl) he was 26 when he died. We purchased him in May 2002 and he has been with us for over 11 years. He retired (bar the occasional walk around the farm and pony ride for children) last year.
During his years with us he took me to many lessons and to both pony club freshmen and adult riding competitions including:
the Buchan Pony Club ODE at Grade 4 and 5 level (he managed to get me round the grade 5 cross country - we were always well back in the field but usually doing very well in the dressage)
the Grade 4 at Dressage for Fun at Tonimbuk
Bollinger and some of his stable cohort also took us to Equitana in 2010 as a demonstration horse for Dianne Jenkins - the only one we rode. Given the atmosphere of the demonstration arena with hundreds of people around he coped brilliantly with a novice rider - though he was none too fond of the stock whips in the other demo arena.
Bollinger was known as the "Perfect Pony" - in spite of being a 15 3 and 3/4 Warmblood as he was always generous of spirit, honest to the aids and reliable - with a little reassurance you could take him anywhere.
My final memories of Bollinger were after putting Blue (Ironhorse Little Secret) away in his paddock at night - pitch black, no moon after he was given a lunge in the indoor - and walking back through Bollinger's paddock and feeding Bolly a carrot after he came up to me in the dark. Bollinger was always happy to see people. You will be missed my friend.