Weatherstation Upgrade
The new weather station at Labertouche is operational (
http://eos.castro.aus.net/weewx/
).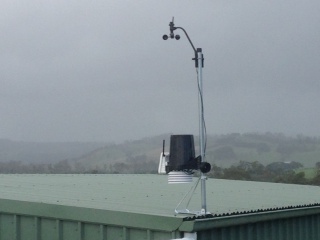 My increasingly unreliable and impossible to buy parts for Oregon Scientific WMR928NX with its custom software suite (
http://www.castro.aus.net/~maurice/weather/
) has finally retired. Instead a shiny new Davis Vantage Pro 2 has been installed with new software.
The new station is connected by a serial interface and I am using weewx (
http://www.weewx.com
) to both collect data from it and to send updates to the Weather Underground (
http://www.wunderground.com/personal-weather-station/dashboard?ID=IVICTORI89
).
A compromise on the siting of the weather station saw it installed on top of one of the paddock shelters. But it is sufficiently close to the house to get a good signal - especially with the spread transmission method employed by the Davis station.